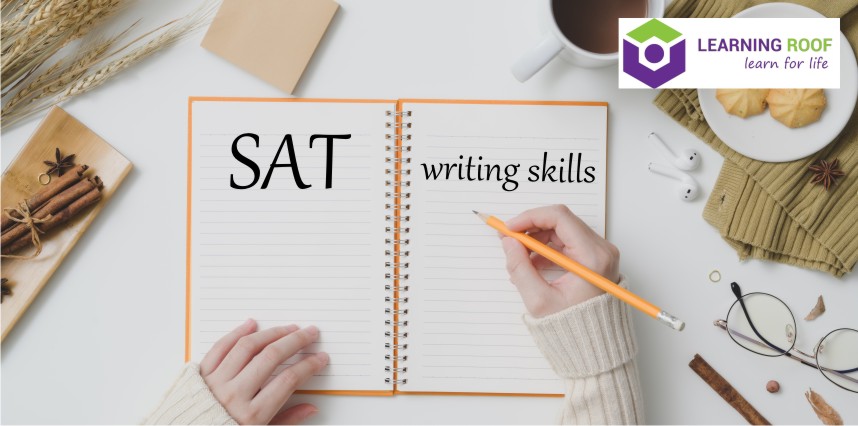 Sparkle your writing skills for SAT with Learning Roof. We tailor our programs for individual students.
Raise your SAT score
In Romeo and Juliet , An iconic creation of Shakepeare, Romeo describes Juliet,
" She shows torches how to burn bright. Her beauty is too good for this world. She is too beautiful to die and be buried".
The above immortal lines are the testimony of raw powers of words and writing.
Everyone who knows how to write, certainly writes something.
It's a ubiquitous phenomenon. So how does one show his/ her flare in writing Section of SAT .

Some handy tips.
Grammar–to raise your SAT score

Although this dreaded " G" word is loathed by millions of students yet it hasn't lost its grandeur. Ultimately, your basic Grammar skills are the passport to your dream college. To emphasize, you have to have it to join the best in business. So brush them up thoroughly and keep shining them to write a script of success and dreams.
Sentence structures

You need to use phrases, clauses and different structures to create a compelling set of ideas. Avoid run off the mill and cliched styles because that can be a substitute for sleeping pills. It is important to realize and exploit the might of tiny sparkles called "words" to have a good command over Writing skills for SAT.
Imagine the difference between:
"It was a complex and weird time."
And
"It was the best of the time." " It was the worst of time." "It was the age of wisdom." "It was the age of foolishness."
Charles Dickens.
This example is just to show that how one can add intrigue and mystique to an otherwise mundane description.
Read, read and read more
Reading unraveled mysteries and explain rationale of ordinariness of life. certainly, it shapes, sharpens and defines your perspectives. In fact, reading is the building block that germinates and nurtures your skills sets. A constant and consistent reading regime would give us an edge in a fiercely competitive test like SAT.
However, reading for test is much beyond reading for leisure. We must be able to read apparently never ending passages without losing the track of main idea, characters, examples and different twists and turn in the passage.
on the whole, it's a test of one's perseverance and patience. You must be able to give your best when it matters most.
Best wishes.. Raise your SAT Scor
For more information on SAT Click here