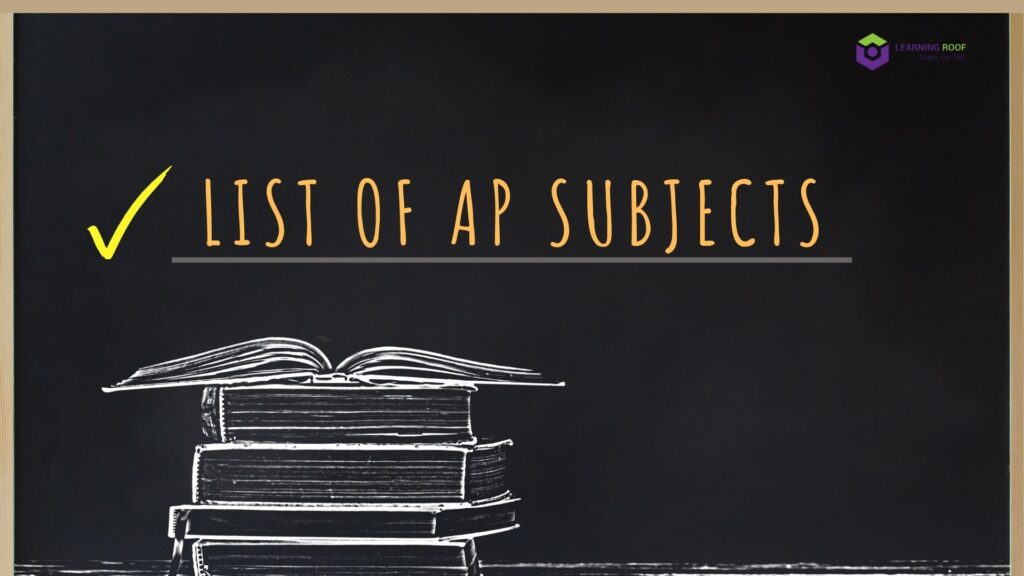 List Of AP Subjects
Are you confused about which AP classes to take? Well, we have prepared for you a complete list of AP subjects and  courses available. Read further to get some advice or words of wisdom from experts. This would certainly help you choose the ideal advanced placement courses!
First things first, here is a list of 38 courses in AP. Scope it out and find out which topics look interesting to you!
Research.
Seminar.
Art and Design (formerly Studio Art): 2-D Design.
Art and Design (formerly Studio Art): 3-D Design.
Art and Design (formerly Studio Art): Drawing.
Art History.
Biology.
Calculus AB.
Calculus BC.
Chemistry.
Chinese Language and Culture.
Computer Science A.
Computer Science Principles.
English Language and Composition.
English Literature and Composition.
Environmental Science.
European History.
French Language and Culture.
German Language and Culture.
Government and Politics (Comparative).
Government and Politics (US).
Human Geography.
Italian Language and Culture.
Japanese Language and Culture.
Latin.
Macroeconomics.
Microeconomics.
Music Theory.
Physics 1: Algebra-Based.
Physics 2: Algebra-Based.
Physics C: Electricity and Magnetism.
Physics C: Mechanics.
Psychology.
Spanish Language and Culture.
Spanish Literature and Culture.
Statistics.
US History.
World History: Modern.
What Subjects to take in AP test?
Are you still baffled while choosing the subject for AP test? Well, the experts suggest thinking about subjects you already enjoy and would like to delve into more. For instance, if math has been your favorite subject, challenge yourself with the BC Calculus course (and exam). It is certainly going to be a rewarding experience.
In fact, try to think a step ahead. For example, consider subjects like computer science, psychology or economics as these aren't part of high school curricula. Exploring these subjects can give you a taste of college while you are still in high school.
Likewise, consider the tests that could give you a competitive edge over the other applicants. You need to exhibit  your qualities, all things considered! For instance, in case you're applying as a science major, it would be a smart thought to take the science AP tests, including Chemistry, Biology and Physics.
What Is AP Exam And Why Is It Important?
Everything About AP Computer Science Exam
Everything About PSAT-Benefits Of Taking PSAT