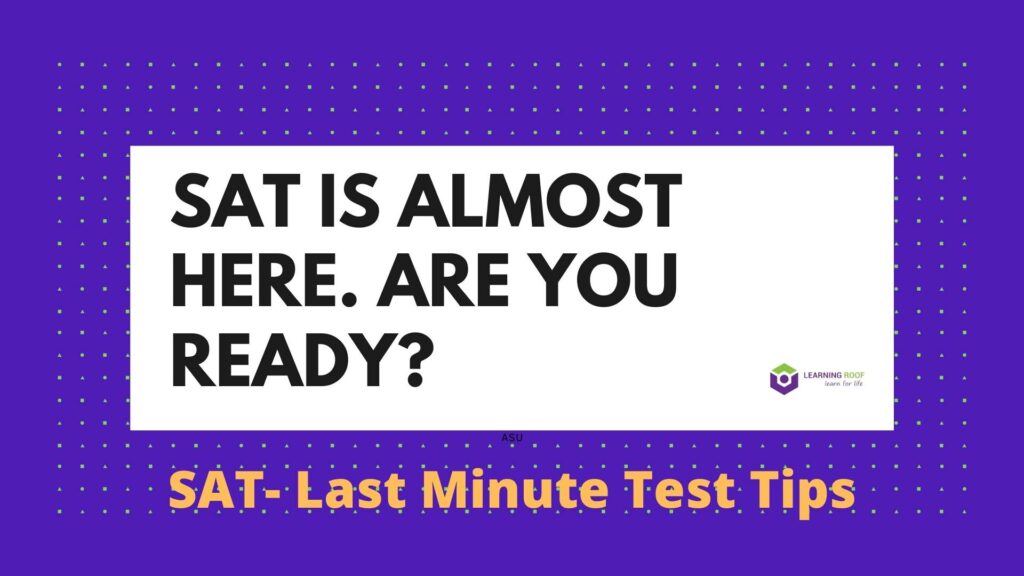 SAT- Last Minute Test Tips
Days flew faster than ever before- no wonder! that is certainly because you are going to take the SAT. Do you have hardly couple of days in hand or perhaps not even a day, and your determination to ace the test is high? Regardless of whether you are seeking last minute test tips, advice on the best way to prepare the day of the test, or impeccable test-strategies to boost your SAT score, well! I have got you covered.
We bring a bunch of handy SAT last minute test tips. Read further for the pro tips to stay focused and raise your SAT scores.
SAT- Last Minute Test Tip 1: Be Time-Conscious
You would prefer not to feel overwhelmed when you hear "time's up" on the SAT, and you haven't even gone through all the questions. Try not to take an entire practice test, however do a couple of questions and analysis with assessing how long you're spending on each. This will assist you with getting a feeling of how long 30 seconds or a minute feels so you'll know when you have to skip questions on the actual test.
You shouldn't spend more than a minute on each SAT Reading questions or more than 30-45 seconds on a SAT Writing question. On the Math section, I additionally suggest spending less than a minute on each question in the two segments. You in fact have additional time per question on the calculator part than on the no calculator part, however it's smarter to be safe than sorry. In case you linger too much, you won't get the opportunity to answer easy questions later in the section!
SAT- Last Minute Test Tip 2: Focus on Your chinks in Armor(Weak Spots)
It's certainly cushy and tempting to just "study" by taking a bunch of practice tests. Yes! that can indeed help you raise your scores but now is the time to scan your mistakes and find out why you made them.
Make sure you scan and comprehend the route to the correct answer and the reason why your answer choice was incorrect. Even if you try this for one section only , you would start to see significant score improvements.
The Night Before The SAT Test
SAT- Last Minute Test Tips 3: Sleep Strategically
Hit the bed early, and make sure to take at least seven hours sleep the night prior to the test. Plan to get up an hour earlier than you need to. Don't just roll out of bed and rush for the test because you might still feel sleepy when the test starts. You ought to be absolutely ready when you get to the test center.
SAT- Last Minute Test Tips 4: Pack Your Backpack
Here's a check-list of what you should bring to the SAT in case you don't know:
Admission Ticket.
Photo ID.
Two #2 pencils (non-mechanical).Take along an eraser and a sharpener.
Calculator.
Watch (Yes, there would be a clock, but it's way easier if you get to check the time on your wrist).
Water and certainly snacks.
SAT- Last Minute Test Tips 5: No studying!
No studying! Yes, not studying the night before the SAT test is a golden rule. Do something that relaxes you. Anything exciting that takes your mind off the test. For instance, watching a movie or dining out with friends or family. Don't forget to set your alarm to wake up early enough so that you won't feel rushed.
Morning Of The SAT Test
SAT- Last Minute Test Tips 6: Some Handy Advice
Dress something comfortable and in layers. You must be prepared for any temperature.
Having a filling breakfast is a great idea. Don't stray far from your usual routine. Make sure you have something filling but if you aren't a breakfast eater, don't opt for a heavy breakfast.
It's a smart act to reach your test center early. Have plenty of time for possible confusions about where to go and how to sign in.
Better leave your cell phone at home or in your car. They are strictly prohibited at test centers.
During the Test
SAT- Last Minute Test Tips 7: Ace The Test
Yes, you're ready for this! So stay calm and confident.
Remember the test strategies taught at Learning Roof. Focus on the section you're presently attempting; don't ponder over previous or upcoming sections.
Don't linger too long on any question. In case you don't know the correct answer, either skip and attempt it at the end, or simply guess and move on! The SAT does not have a wrong answer penalty.
Most importantly, if at all you lose concentration, start feeling frustrated, or stressing about the time, take a pause for 30 seconds. Close your eyes, take a few deep breaths, and relax your shoulders. Your productivity does improve after taking a few moments to relax.
Utilize your breaks wisely. During the break, go to the restroom, munch your snacks. This takes your energy up for the next section. During short break try and do some stretches to keep a good blood circulation.
What Next?
Foremost, congratulate yourself! You did it!
Secondly, if you didn't do well, or something went wrong that may negatively affect your score. No problem! You can cancel your scores by the Wednesday following your test date. You can do this by requesting a score cancellation form from your test proctor or visit the College Board's website for more information.
Your scores are available online approximately 3-4 weeks after your test and is sent to you via mail in approximately 6 weeks.
Let your Learning Roof Facilitators know your SAT scores. We would love to hear hear how you did!
GOOD LUCK ON TEST DAY!
Don't forget to share your success story!
SAT Prep with Learning Roof
At Learning Roof, we have combined dynamic analytics with focused classroom time -that promises you a higher SAT score. Our goal is to transform- how students learn, what they learn, who they learn from. We therefore hire the best of trainers to make SAT possible for students.
Furthermore, we understand the common testing pit falls that beginners have. Most importantly, we review the practice test result of each student, and track pattern in which the student makes errors. And finding that pattern is half the battle won. After that our trainers  approach each student by recognizing their strengths, capacity, and learning style and accordingly deliver a unique teaching experience to every learner.
Certainly, joining Learning roof is an incredible route for you to see our facilitators in action. I guarantee, you will be in awe seeing the passion and energy we put in for each SAT aspirant. We have significantly helped our students ace the SAT by utilizing the best test prep techniques. Indeed, our team guides your child from start to finish in the SAT prep journey.
Learning Roof students have significantly accomplished SAT score upgrades, got entrance into the top colleges, and won college scholarships too. Undoubtedly, we offer the Best SAT Prep Tutoring In Princeton. Enroll now for assured results!
Top 10 Colleges in the United States.
What is a good SAT score?- An In Depth Guide?
Ace SAT: Know how to survive and thrive in SAT?
Raise your SAT score: Improve writing skills
Who Benefits Most From SAT Prep?