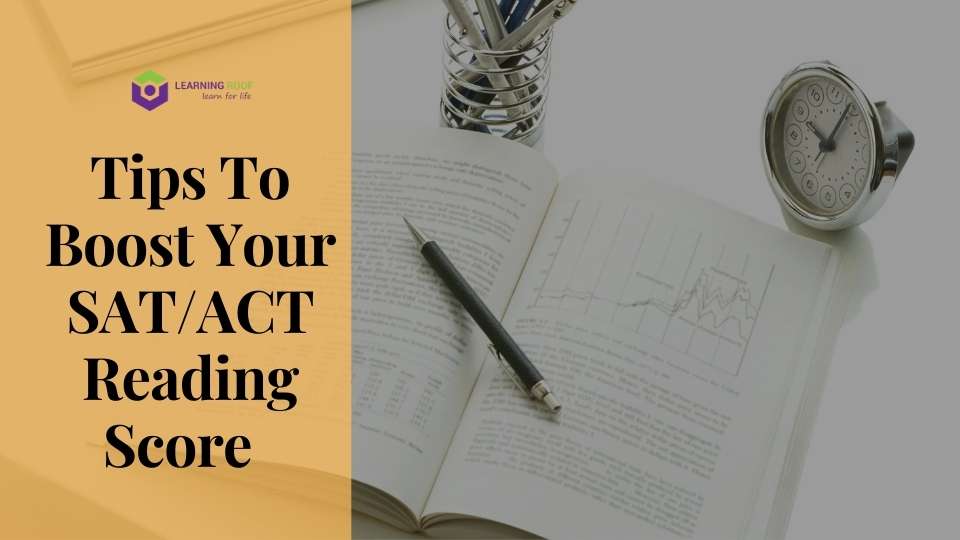 Tips to Boost Your SAT/ACT Reading Score
Do you think reading passages is a onerous task on SAT and ACT. Do you zone out, miss the details and end up re-reading the same paragraph repetitively. Let me assure you, majority of the test takers sail in the same boat when it comes to reading passages. So how to get to grips with boring passages in order to boost your SAT/ACT reading score? Read further as we bring the pro tips to boost your SAT/ACT reading score.
6 Pro Tips to Boost Your SAT/ACT Reading Score
Whether you have been preparing for the test for months and are just looking for some new advice which can help you raise your score or you haven't gone through the books yet, the tips below will certainly help you boost your reading score on SAT/ACT.
Attentive Reading
Attentive reading implies that you're effectively searching for things as you read. It's significantly harder to zone out  in case you're searching for explicit things while you read, so search for the primary ideas, shifts in tone, and the objective behind each section while you read the passage. By searching for these components rather than simply attempting to assimilate the passage content, you can help remain centered and (ideally) just read the whole section once.
Make Pencil Your Partner In Reading
It's a smart practice to annotate the passage for active reading skills on SAT. Underline significant sentences, write speedy little notes in the edges, and discover approaches to keep the pencil on the page to escape zoning out while reading. These notes will help you locate the most significant points of the passage as you work through each question. So, isn't it a win-win?
Easiest Passages First
On the SAT, The passages are based on US and World Literature, History, Science and Social Studies. There is no standard that says you should finish the sections in the same flow that they are introduced to you. Take it easy, be the decision maker and start with the section type that is simplest for you. Here you go!
Reading Is A Race
You are certainly going to love this one. Try reading the passages as a race. Track the time. To elaborate, time yourself with every passage and try to outperform yourself. With each subsequent passage, try beating your previous time. This SAT reading tip makes you less inclined to zone out in case you're resolved to go through the passage quickly.
Don't Forget Why You Are Here
Eventually, nothing will make an exhausting passage abruptly intriguing. You'll require a decent measure of self-control to toil through a passage that you find dull as soil. It's indeed helpful to remember why you're taking this test – you realize the SAT and the ACT are significant, or you wouldn't try finding out about how to get your scores higher. The tests are absolutely significant enough to drive yourself through some exhausting reading passages. It works!
Read, Read and Read More-To Boost Your SAT/ACT Reading Score
The more ACT or SAT passages you practice, the better you'll be at slogging through the tediousness.
In case you'd like some customized help with your SAT/ACT prep, you can contact Learning Roof for free consultation and Demo class ( that's absolutely free).
Learning Roof
666 Plainsboro Rd. 100-1H Plainsboro, NJ 08536(609) 269-5515 , (604) 888 9420
registrations@thelearningroof.com
SAT/ACT Prep with Learning Roof
At Learning Roof, we have combined dynamic analytics with focused classroom time -that promises you a higher SAT score. Our goal is to transform- how students learn, what they learn, who they learn from. We therefore hire the best of trainers to make SAT possible for students.
Furthermore, we understand the common testing pit falls that beginners have. Most importantly, we review the practice test result of each student, and track pattern in which the student makes errors. And finding that pattern is half the battle won. After that our trainers  approach each student by recognizing their strengths, capacity, and learning style and accordingly deliver a unique teaching experience to every learner.
Certainly, joining Learning roof is an incredible route for you to see our facilitators in action. I guarantee, you will be in awe seeing the passion and energy we put in for each SAT aspirant. We have significantly helped our students ace the SAT by utilizing the best test prep techniques. Indeed, our team guides your child from start to finish in the SAT prep journey.
Learning Roof students have significantly accomplished SAT score upgrades, got entrance into the top colleges, and won college scholarships too. Undoubtedly, we offer the Best SAT Prep Tutoring In Princeton. Enroll now for assured results!
SAT Test Canceled Due To COVID- What Next?
Top 10 Colleges in the United States.
What is a good SAT score?- An In Depth Guide?
Ace SAT: Know how to survive and thrive in SAT?
Raise your SAT score: Improve writing skills
Who Benefits Most From SAT Prep?