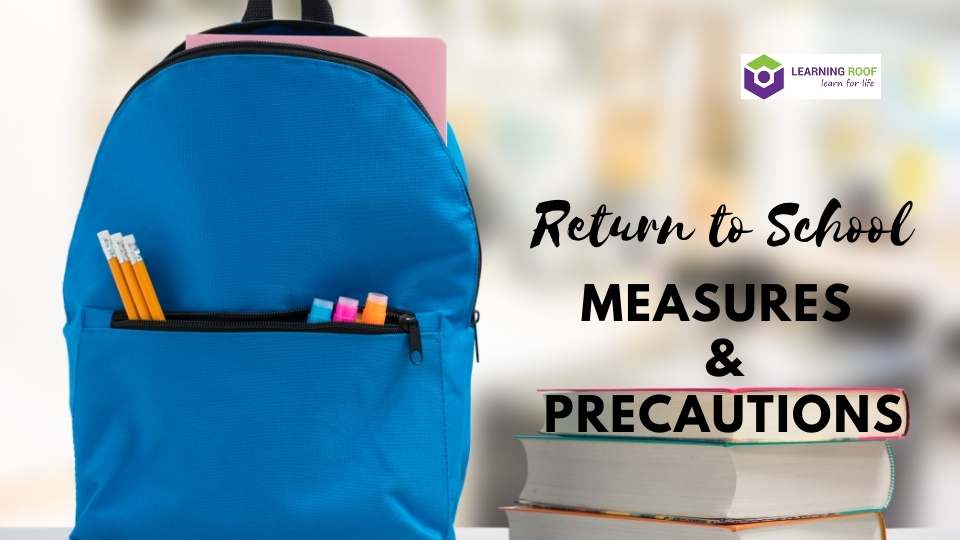 Return to school- Answer to your why and how?
Education has always followed a conventional pattern where seekers and givers are grouped in a room. Where the ensuing dialogues and interactions carry forward the nuggets of wisdom, essential to survive and thrive in one's life and career.But an extraordinary act of God is quite insistent of altering this mechanism. For instance, the upsurge of corona virus this year followed by the fragility and susceptibility of the society has caused the return to school to collide in many ways. Undoubtedly, this has led the parental life into a hopscotch. Nevertheless, we all need to embrace this change and should come together to carve a safe and conducive path for our children.
Now, arrives fall and the new school session is going to begin. Numerous measures are set in place so that students can both learn and excel without any risk of getting infected.
Why return to school?
To enumerate, the motive behind sending kids back to school is- hands down! And by all means, they learn best in person.Returning to school is important because schools not only provide academic learning but an overall growth. The kid gets to learn reading, writing, exercise, math and other skills. Above all, the emotional and mental support  children get from teachers and friends is priceless. Furthermore, Going back to school for many kids means nutritious meals, internet access and other indispensable services- cherry on top.
How to return to school?
2020 return to school is hitting conflicts. Indeed, this pandemic has tested everything from emotion turmoil to economic resilience. Parents are in predicament about how to think about future prospects when present looks bleak and threatening. The school will only be safe if the spread of virus is in control. Therefore, a proper layered approach is required to keep the kids, teachers and staff safe.
Below are the steps that can be taken to reduce the risk of getting infected.
EXERCISE SAFE DISTANCING
We all know, social distancing practice refers to having sufficient space between two individuals so as to lessen the chances of contaminating the disease. Therefore, WHO suggests a minimum of 6 feet(2 meters) of space between yourself and people around you.
But to implement this in schools with younger kids, it might not be practically possible. As per American Academy of Pediatrics (AAP) strict physical distancing may be a conflict with social and emotional learning. Moreover, the spread of COVID-19 is not clear among children, yet.
Certain steps can be taken to foster social distancing:
1- Doing away with lockers.
2- Using the open area for meals and recess.
3- Limiting the number of students in buses.
4- Creating ample space between desks and facing them in one direction.
5- Using face shields and partitions to distance educators and students.
FACE MASKS
WHO recommends cotton face masks in public places specially where social distancing is not possible. No matter what, schools can not be an exception to it. Researches prove that the people contracted with Covid-19 can transmit it to others before they know they have it.
Hence, if schools take up the decision of students wearing face mask, they may consider a few points, like:
1. Wearing a cotton mask, specially in buses, at carpool pick up or drop off.
2. Labeling the child'mask so that it could be differentiated.
3. Mentioning it to the child to wash his hand before touching the mask.
To note, a child less than two years should not be putting on a mask as well as a child having any breathing problem.
REGULARLY WASHING HANDS
It's a smart act to keep practicing washing your hands so as to inculcate this habit in your child. In fact, the kids must know that a minimum of 20 seconds hand-wash is important before and after eating, sneezing, coughing or touching the face mask.
Schools should encourage hand wash routines and hygiene practices, like asking children to cover their faces with mask, sneezing in elbows etc.
BE CLEAN AND SANITIZE
Teach the child importance of cleaning and disinfecting all the frequently touched surfaces. This helps reducing the chances of spreading disease.
These steps can surely mitigate parents' worries and enable them to focus on their wards' future.
This fall, let your child return to school with safety in mind and confidence in heart.
Good luck!
Learning Roof
Should I send my child back to school amid COVID-19?
Virtual Classes- My Skeptical Assessment Of Its Advantages and Limitations.
This fall- Back to school with coding in mind.
SAT Tutoring in Princeton  Math Tutoring in Princeton  Math Tutor in Princeton